My smartphone collection
|
Another goodies show (and that means "show hàng" in Vietnamese ^^)
Well, after obtaining the E680i, I have step one more to fulfill my os mobile device collection. I will show them to you, also state cons and pros of those operating system.
Let's have a look at those.
First of all, a represent of Symbian S60 operating system, the Nokia 6620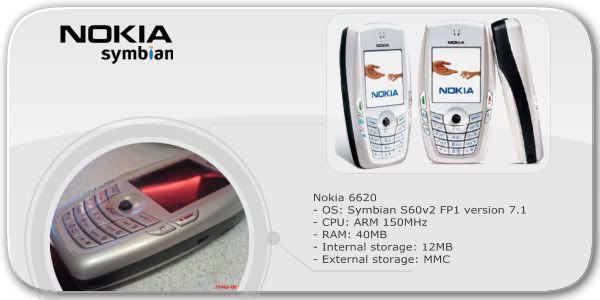 Nokia 6620
It's a smart phone! Well, my every phones I show here is smartphone, but the Nokia 6620 is smart-phone. That means it's a phone, and it's smart. If you know how to using a phone, using 6620 could be no problem. But it's fully functional with the Symbian S60 v7.1, and you could do a lot of things with it. Elegant design, rock-solid, and smart, those are what I feel when I use it.
Well, now I will talk about the operating system:
Nothing suit a mobile phone more than Symbian
It's it. Symbian is one of the first operating system for a mobile phone, or may be not, but it's the os that bring the word "smartphone" today. Unlike other operating system, Symbian has a look-and-feel verymuch like a normal phone. So if you talk about a smartphone, that should be Symbian.
Pros:
– One of the first OS for mobile device, and becomes very popular now
– Has an outrageous number of applications out there.
– Much like a phone, easy to learn, easy to use.
Cons:
– Unstable design, I mean its system design, not the look and feel.
– Very buggy. You'll get something like "System error" with no other description.
– Difficult for developing.
– Because of those, despite the fact that Symbian has a lot applications, but most of them are useless, and very expensive, too.
Conclusion, if you need a phone, well, a smartphone, to be exact, Symbian is what you need. What about others? I will tell you right now.
Next one is a represent for a very small percentage in mobile OS industry, the Monta Vista Linux, build on Linux core. But it's the brightest of them all, the Motorola E680i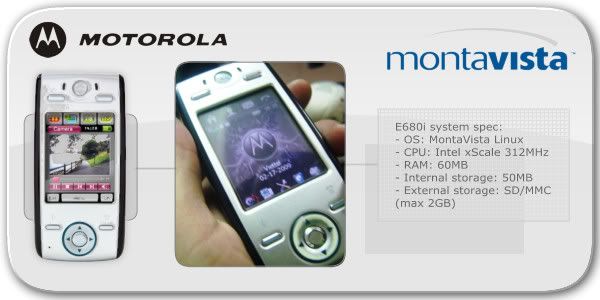 Motorola E680i
Motorola has been successful in mobile industry, expecially in US, with the V3, E398… But never in smart phone industry. I have to admit that I dislike Motorola, but the E680i is totally different. (If you have a little google you'll have to admit that) It is a touch screen, smart phone with a Linux operating system. It made E680i the most successful smart phone of Motorola ever, and may be, forever, at least for a long time.
Monta Vista Linux – It's your phone
What developers do when they release a phone? They config it, encrypt and package those configuration, then release the phone. But Monta Vista Linux, or may be all the Linux phone are different. Build on Linux core 2.6, that means Monta Vista Linux is a Linux distro, an outstanding opensource operating system. And that's also means they don't encrypt, neither package anything. And that means you only have to edit a text file for changing the way your phone works. (You should see the same with any Linux distro) You can do whatever you want with your phone, and this has been proved by those excellent members of motofunvn forums.
Pros:
– It's a Linux distro. And that should be a big advantage. Remember, Windows Mobile do not build on Windows core. It's kinda different.
– Config your phone the way you want.
– Very good PDA function.
– Have some very good application, such as DOSBox (you know what it is)
– Most of it application is free and opensource.
Cons:
My my my, it should be one of the greatest smartphone and smart OS, if those do not fall for… Motorola and Monta Vista.
– Monta Vista Linux is NOT an opensource Linux. Sadder Monta Vista still doesn't sell much of their Linux, mostly for Motorola. And that also means very little developer dare to develop application on it, and that means there are very, very few application for Monta Vista Linux. Most of applications on E680i is by a group in China (ezx) port from other Linux opensource application. If only it becomes more popular..
– And the second is Motorola. They program their desktop application like sh**, so all those PDA features of the phones is kinda useless, especially if you want a little sync.
Conclusion, despite those disavantage, it's still a great phone, indeed. I only feel sorry for it. You will like it if you're someone who want to customize your phone, or just because you like Linux.
My third phone is a popular BlackBerry 7230, and ofcourse, installed with their RIM BlackBerryoperating system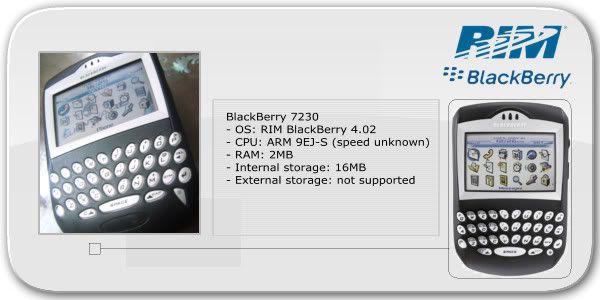 BlackBerry 7230
BlackBerry is becoming more and more popular right now, much like the Apple iPhone. Their design is great, with large QWERTY keyboard. Their service is awesome, yeah, I'm talking about the BlackBerry PUSH mail service (which is very expensive, and ofcourse not for everyone). But I dare say, their operating system is suck!!!
RIM BlackBerry – QWERTY is all about
Actually, RIM BlackBerry is not developed by BlackBerry, but by Research In Motion company. But now BlackBerry own the RIM, therefore no mobilephone others than BlackBerry use RIM. Because of that, RIM BlackBerry is a closed OS. And you know the result, RIM application is very few, with below average quality. And I tell you that, unlike BlackBerry boasts about their PDA features, actually their PDA features is much better than Symbian, but not that good, and still worse than Windows Mobile.
Pros:
– Intelligent user habit system, to predict what user are going to do.
– Take advantage of QWERTY or semi-QWERTY keyboard.
– Solid system, less buggy, take less system resource. (may run well on low system configuration)
Cons:
– Very few applications with average quality.
– Less choice for customization
– Only Unicode composite supported
– To tell the truth, what does the operating system for?
Conclusion, well, with an operating system that almost can not do anything, and not very user-friendly too, what kind of people will use this? Ofcourse there are. There are business men want to check mail every minutes, and ofcourse there are those pretend to be business men too.
Now for the next. It's not a smartphone, because it's not a phone. It can't take a call, but it's an original of a successful mobile operating system nowaday. Welcome the Windows Mobile with HP Jordana 540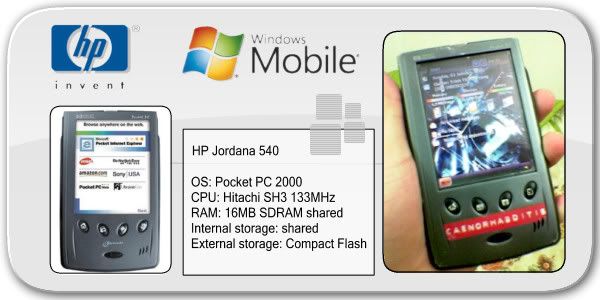 HP Jordana 540
Tee-hee, here is a little difference. It's a 9 years old PDA (HP did it great), yet still fully functional. Now back to the past. Symbian has made phone to be smart, yes. But it's not the very first mobile operating system in the world. Long before Symbian appeared, there were 2 mobile operating system, competite with each other. They were the Palm and the Windows Mobile. Palm take advantage of low system hardware, and Windows Mobile take advantage of their trademark, and a nice design and powerful OS for mobile. And this HP Jordana proved it.
Windows Mobile – The PDA with phone features
Ofcourse my HP Jordana can't make a call, but I talk about Windows Mobile in general. Well, Windows Mobile nowaday has gone far, but even a Windows Mobile of 9 years ago can beat Symbian or RIM BlackBerry nowaday. It's one of the most powerful operating system for mobile ever. And if it can phones, it's only another feature to be added. And it'll remain the most powerful operating system for mobile, only if Android wouldn't developed (I wouldn't know what will be better, since Android is still on going). Unluckily Monta Vista Linux couldn't make this far. Apple iPhone is a great phone, I know, but its OS will never be a fingernail compare to those two OSes.
Pros:
– Powerful operating system for mobile ever.
– Great PDA features
– Solid system, less buggy.
– Easy to develop, lot of documents available.
– Many applications with good performance
Cons
– The only closed-source Operating system for mobile to be sold nowaday. That means higher price for a mobile phone (~100$)
– Need high system requirement.
Conclusion, if you have money, and what you really need is a PDA, Windows Mobile is a good choice. Phone is an add-on. Ofcourse Android is coming to threaten Windows Mobile, with lower price (free, to be exact), and like any Linux distro, easy to use for newbie, powerful for pro. But Windows Mobile is still a very good OS for your mobile device.
Well, that's all. You want to know what I am aiming next? I dunno. May be another Windows Mobile phone to replace my old PDA in short term, and an Google Android phone in long term? I will inform you right away! Wait for it.
---
Leave a comment